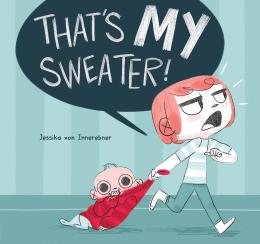 Read an excerpt
Awards
Winner, Christie Harris Illustrated Children's Literature Prize, 2023
Commended, Best Books for Kids and Teens, Canadian Children's Book Centre, 2023
That's My Sweater!
Scholastic Canada Ltd | ISBN 9781443192200 Hardcover
32 Pages | 10.259" x 10.288" | Ages 3 to 8
Olivia plots to get her favourite sweater back in this funny hand-me-down drama.
Olivia grows but her sweater doesn't, so her mother passes it down to her stinky, drool-y little brother. That sweater keeps her warm and cool, safe and brave. Olivia needs it and there is no way she's going to give it up. Or is there?
Whether you're the youngest, the oldest, or somewhere in between, this sweet story of sibling rivalry will strike a chord.
Raves & reviews:
Praise for It's Not All Rainbows:
Short-listed, Chocolate Lily Book Award (BC Children's Choice), 2020
Commended, Best Books for Kids and Teens, Canadian Children's Book Centre, 2020
"Blending the timeless wisdom of Alexander and the Terrible, Horrible, No Good, Very Bad Day with a slight parody of current trends, this picture book is an excellent antidote to the cult of positive thinking. Slightly subversive and a lot of fun." — Kirkus Reviews