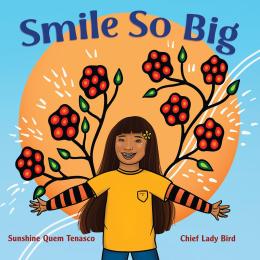 Read an excerpt
Awards
Commended, Best Books for Kids and Teens, Canadian Children's Book Centre, 2023
Smile So Big
Scholastic Canada Ltd | ISBN 9781443187671 Hardcover
32 Pages | 9.781" x 9.836" | Ages 4 to 8
A magical mirror helps a young girl understand her true beauty in this new picture book from the creators of Nibi's Water Song.
When Challa comes home in tears after being teased about her smile, her mom gives her a special gift. It's a magic mirror — shiny, beaded and beautiful — passed on from her mom, and from her djo djo before her.
Challa's mom tells her that when anyone looks into the mirror, they will see their true self. There's just one rule: Everyone has to say what they see in the reflection.
At first the mirror seems to work for everyone but her. Challa keeps looking and looking. The more beauty she sees in herself, the happier she feels, and the longer she looks into the mirror, the more beauty she sees, until finally Challa sees so much beauty, she can't contain her smile!
This special story, from award-winning activist Sunshine Quem Tenasco and artist Chief Lady Bird, introduces readers to concepts of self-acceptance, self-empowerment, and recognition of the unique beauty that comes from within.
Extras: