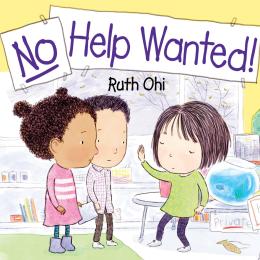 Read an excerpt
Available in French
Awards
Commended, Best Books for Kids and Teens, Canadian Children's Book Centre, 2020
No Help Wanted!
Scholastic Canada Ltd | ISBN 9781443163606 Hardcover
32 Pages | 9.757" x 9.772" | Ages 3 to 8
Sometimes it's our mistakes that teach us the most.Posy always has a plan, and she is determined to see her plans through. But when she eagerly takes charge of the new classroom pet, things don't go according to plan. Bluey the beta fish suffers under all the special attention, and he starts looking worse and worse. Posy fears everyone will blame her. Can she admit she needs help to bring her new friend back around?In this lovely school-based story, award-winning author and illustrator Ruth Ohi gives us a recognizable character — a high-achieving child, who needs a reminder that it's okay to ask for help — and the lesson that cooperation wins the day!
Extras: