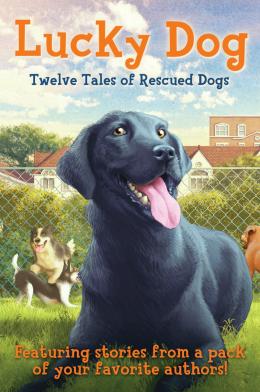 Lucky Dog: Twelve Tales of Rescued Dogs
Scholastic Inc | ISBN 9780545554510 Hardcover
192 Pages | 5.8" x 8.53" | Ages 8 to 12
A collection of short stories from favorite authors, all about dogs and the kids who love them.
This collection is full of heartwarming and hilarious stories about the Pawley Rescue Center, where rescued dogs find their way into hearts and homes. You'll meet Foxtrot, a feisty Pomeranian who can't bear the thought of leaving her best friend. And Beatrice, whose bark is definitely worse than her bite. And then there's Pumpkin, one of the 101 Chihuahuas who turn life at the center upside down.
As each dog at the pound gets adopted, we follow them to their new home, meet their new owners, and get a short story all about their new life - each from a different author. Whether drooling, dueling, or just fooling around, these captivating canines will show you why the dog is kid's best friend!
Lucky Dog features sweet and silly stories about playful pups and the kids who love them by some of your favorite authors: Randi Barrow, Marlane Kennedy, Elizabeth Cody Kimmel, Kirby Larson, C. Alexander London, Leslie Margolis, Jane B. Mason and Sarah Hines-Stephens, Ellen Miles, Michael Northrop, Teddy Slater, Tui T. Sutherland, and Allan Woodrow.