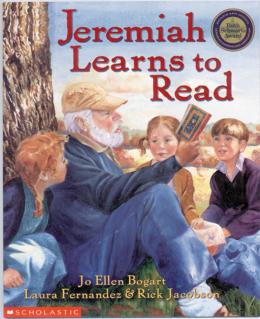 Jeremiah Learns to Read
Scholastic Canada Ltd | ISBN 9780590515276 Paperback
32 Pages | 7.99" x 10.01" | Ages 4 to 8

Jeremiah is a very wise man. He knows how to build a fence, cook pancakes, grow vegetables, and many other wonderful things…but there is something that Jeremiah does not know how to do. He cannot read – and he wants to learn how. A heartwarming story about the joy of reading and the ways that we can learn from one another. Winner of the 1998 Ruth Schwartz Children's Book Award.
Raves & reviews:
"Bogart has written a heartwarming story about sharing and learning from one another and about the joy and wonder of reading. The text is simple, soft and soothing. It's a sure-fire winner! Highly recommended." (CM Magazine)