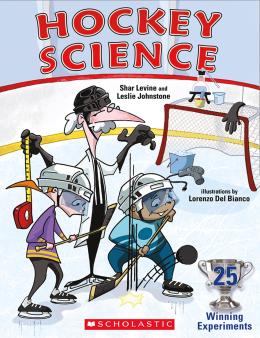 Read an excerpt
Available in French
Awards
Commended, Best Books for Kids and Teens, Canadian Children's Book Centre, 2013
Commended, OLA Best Bets, 2013
Hockey Science: 25 Winning Experiments
Scholastic Canada Ltd | ISBN 9781443107778 Paperback
48 Pages | 8.41" x 10.85" | Ages 7 to 12
Learn the science behind what makes hockey so great!
Ever wonder why hockey players tape their sticks? Or why they freeze pucks before a game (they do, you know)? From how pucks slide, to why sticks break, and which angle will get the puck where you want it to go, Hockey Science is a fun exploration of the science behind the great sport of hockey.
Join mad scientists Shar Levine and Leslie Johnstone, the creators of Scary Science and Snowy Science, as they go behind-the-scenes of our country's favourite sport with their usual sense of humour and wonder. Each page is full of fun experiments that budding hockey players can try on their own - on or off the ice!