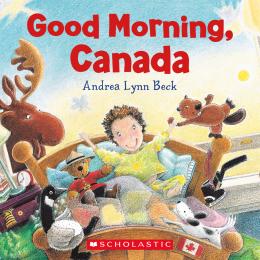 Read an excerpt
Available in French
Awards
Commended, TD Grade One Giveaway Book, 2017
Commended, Best Books for Kids and Teens, Canadian Children's Book Centre, 2015
Good Morning, Canada
Scholastic Canada Ltd | ISBN 9781443148344 Board book
30 Pages | 6.75" x 6.75" | Ages 0 to 3
Scholastic Canada Ltd | ISBN 9781443133234 Hardcover
32 Pages | 9.28" x 9.3" | Ages 3 to 7
Send out a good morning to young Canadians from coast to coast in this companion to Goodnight, Canada!
As the pages turn on bright scenes and changing seasons across the country, rhyming text cheerily greets the sights and sounds of a Canadian morning.
From a pair of moose spied through an open tent flap at sunrise to a gaggle of Canada geese at a school bus stop, a morning game of shinny on an outdoor rink, and checking the sap buckets at a maple syrup farm, these inviting pages capture a familiar Canada that will delight young readers.
Adorable children and animals fill the pages, with scenes to pore over again and again. Each spread includes a dog, a stuffed teddy bear, and a Canadian flag for readers to find. A perfect companion to Goodnight, Canada!
Raves & reviews:
Praise for Goodnight, Canada:
"A bedtime story, geography lesson, and puzzle book all in one . . . gentle and imaginative, [Goodnight, Canada] should be a hit among parents and young children, who will eagerly immerse themselves in this rich portrait of their native land." —Quill & Quire
"Young readers will enjoy the rhyming text and become absorbed in examining every detail of the rich illustrations that depict representative features of each province and territory." —CBC Parents
"Goodnight, Canada is a soothing story that will both delight and calm children . . . [it] is a wonderful story to share with young children at bedtime and will likely become a favourite of children and parents alike." —CM: Canadian Review of Materials
"A loving homage to all the provinces and territories of Canada. Her marvelous illustrations give the simple tale both warmth and heart . . . [they] make the book come alive with the whimsical details that reflect each place he says goodnight to." —Resource Links
Extras: