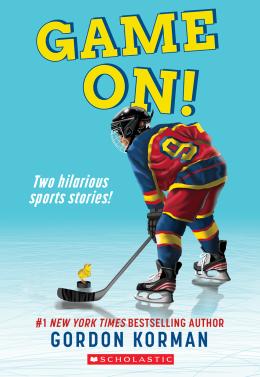 Read an excerpt
Awards
Commended, Best Books for Kids and Teens, Canadian Children's Book Centre, 2022
Game On!
Scholastic Canada Ltd | ISBN 9781443182423 Paperback
396 Pages | 5.283" x 7.626" | Ages 9 to 12
Two classic Gordon Korman titles in one — perfect for the sports fanatic!
These two favourite novels come together in one paperback edition:
The Chicken Doesn't Skate
What do a scientist, a screenwriter, and a hockey team all have in common? A chicken! Milo's trying to do a project on the food chain, where he charts the growth of a baby chick, and plans to serve his specimen to the judges at the science fair. Only, his classmates have other ideas for the chicken. They claim that the chick's a good-luck charm, a friend and even the hockey team's new mascot!
The Toilet Paper Tigers
Corey Johnson never dreamed Little League could be so humiliating. But that was before he joined the Feather Soft Tigers. It's bad enough that the team uniforms have pictures of toilet paper on them — thanks to their sponsor. But with a catcher who's afraid of the ball, a right fielder who falls asleep during the games and a coach who knows zero about baseball, it looks like the Tigers are going straight down the toilet!
Raves & reviews:
Praise for The Toilet Paper Tigers:
"A broad-humored farce . . . with plenty of unconventional baseball action." — Kirkus Reviews
"Plenty of sports action, along with Korman's trademark snappy dialogue, makes this peppy story an ideal choice for reluctant readers. Baseball fans will be sure to root for this lighthearted romp." — Publishers Weekly
Praise for The Chicken Doesn't Skate:
"[Korman] has a marvellous ability to manipulate a large number of characters and several intertwining plot lines in a way that provides a steady stream of laughs even as it builds to hilarious climaxes." — Quill & Quire
"A breathless, rollicking read that is full of fun." — CM: Canadian Review of Materials