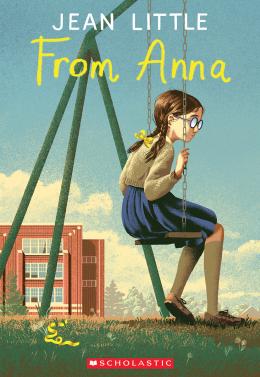 Read an excerpt
Awards
Commended, Best Books for Kids and Teens, Canadian Children's Book Centre, 2023
From Anna (50th Anniversary Edition)
Scholastic Canada Ltd | ISBN 9781443197052 Paperback
224 Pages | 5.252" x 7.629" | Ages 8 to 12
Scholastic Canada Ltd | ISBN 9781443119740 Ebook
224 Pages | Ages 8 to 12
50th Anniversary Edition.
Nine-year-old Anna has always been the clumsy one in the family. Nine-year-old Anna Solden has always been the clumsy one in the family — somehow she can never do anything right. She bumps into tables, and she can't read the chalkboard at school. Her perfect brothers and sisters call her "Awkward Anna."
When Papa announces that the family is moving from Germany to Canada — he's worried about what the Nazis' rise to power will bring — Anna's heart sinks. How can she learn English when she can't even read German properly? But when the Soldens arrive in Canada, Anna learns that there is a reason for her clumsiness. And suddenly, wonderfully, her whole world begins to change.
Discover why generations of readers have loved this classic story by one of Canada's most beloved storytellers.
Includes bonus content: how the story came to be, reader discussion questions and activities.
Raves & reviews:
"Jean Little has again created realistic characters whose interactions make this a touching story with which children will readily identify." — School Library Journal
"In Canada [Anna] comes into her own. A moving, honest and strong story." — Michelle Landsberg's Guide to Children's Books
"Moving is never easy, especially when you're a little 9-year-old girl moving from the tumult of living in Nazi Germany to Canada in the 1930s. And if you're clumsy and your older brothers and sisters all call you "Awkward Anna" as well, it's even worse. In award-winning writer Jean Little's poignant novel, From Anna, readers are sure to be touched by Anna Solden's struggles with her new home in Canada, the unfamiliar language of English, and the realization that, in fact, there is a reason for her being such an awkward child. When it's discovered that Anna needs glasses and that her clumsiness is actually the result of being visually impaired, Anna's life changes completely. Suddenly her brothers and sisters see Anna in a new light and try to make amends for being unkind. From Anna is one of Jean Little's most popular novels, and it's little wonder. Readers will also want to check out the sequel, Listen for the Singing." — Jeffrey Canton