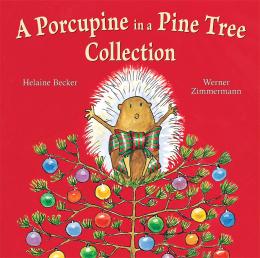 Read an excerpt
Awards
Commended, Best Books for Kids and Teens, Canadian Children's Book Centre, 2021
A Porcupine in a Pine Tree Collection
Scholastic Canada Ltd | ISBN 9781443175708 Hardcover
96 Pages | 10.292" x 10.381" | Ages 3 to 8
A special gift edition of the quintessential Canadian Christmas series!
Sing your way through the season with Porcupine, Beaver, Moose and the gang!
This special gift edition contains all three bestselling holiday favourites: A Porcupine in a Pine Tree, Dashing Through the Snow and Deck the Halls. Get ready for merriment and mayhem with your favourite all-Canadian carols!
Includes musical arrangements for all three songs, so readers can play along on piano or guitar.
Raves & reviews:
Praise for A Porcupine in a Pine Tree:
"The clearly Canadian lyrics are perfectly complemented by the fun and dynamic illustrations." — CBC Parents
Praise for Dashing Through the Snow:
"Parents and teachers will readily sing Becker's rhymes, and the chorus – part of which ends with a resounding "eh!" – encourages full listener participation." — National Reading Campaign
"Much like the holiday season and any good celebration, the excitement and chaos build through every page turn in this picture book. Expect to be singing this book over and over again throughout the holiday season as Becker's rhymes are infectious and possibly addictive. Zimmerman's delightful and detailed watercolour illustrations complement the text perfectly with their wit and energy. There is so much to see in every illustration; don't be surprised if you spot something new each time you read/sing through the story." — CM: Canadian Review of Materials
"Every bit as fun as its predecessor. This book has the potential of engaging the entire family since no one who reads it will be able to refrain from singing out loud." — Montreal Gazette