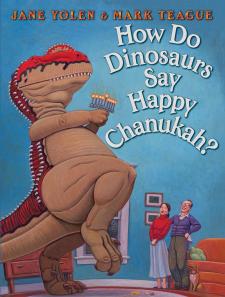 How Do Dinosaurs Say Happy Hannukah?
Scholastic Inc. | ISBN 9780545416771 | Hardcover | 40 Pages | Ages 0-4 | 9" x 12"
Scholastic Inc. | ISBN 9781338330328 | Board Book | 40 Pages | Ages 0-3 | 6" x 8"
Little dinosaurs love to celebrate the Festival of Lights, from the warm glow of holiday candles in the menorah to the fun of family gatherings. But sometimes the excitement of Chanukah, its treasured rituals, and the tradition of gifts can tempt a youngster to misbehave....
Come along on a joyful romp filled with tumbling dreidels and melting gelt as North America's favourite prehistoric pals spread a little mischief this season. Children will laugh out loud as dinosaurs fidget, fuss, and stomp through every occasion, while their human parents shift from shock to weary patience.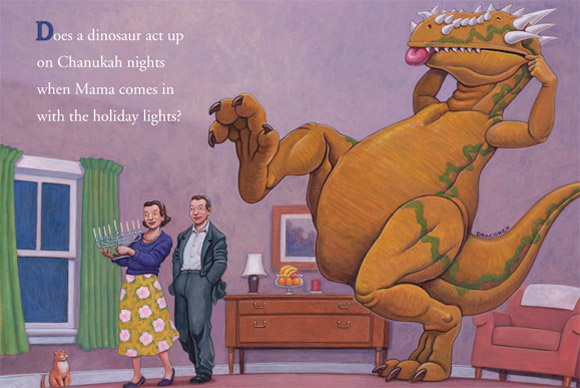 From How Do Dinosaurs Say Happy Chanukah? © 2012 by Jane Yolen and Mark Teague. All rights reserved.