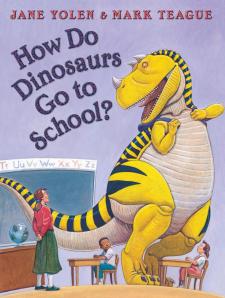 How Do Dinosaurs Go To School?
Scholastic Inc. | ISBN 9780439020817 | Hardcover | Ages 0-4 | 9" x 12"
Everyone's favourite dinosaurs are back — and this time they are going to school. More fun dinosaur antics await. These prehistoric pupils are in a class of their own! As in their previous books, Yolen and Teague capture children's rambunctious natures with playful read-aloud verse and wonderfully amusing pictures.
What would you do if a very large Ceratosaurus stomped into your classroom? And what if the student sitting next to you was a gigantic Silvisaurus - who decided to jump on top of the desk? Come along and join the fun as dinosaurs ride the bus, read their favorite books, and have fun on the playground with all their friends. Filled with entertaining details and familiar scenes, each illustration includes the name of the featured dinosaur hidden in the picture. Going to school has never been so much fun!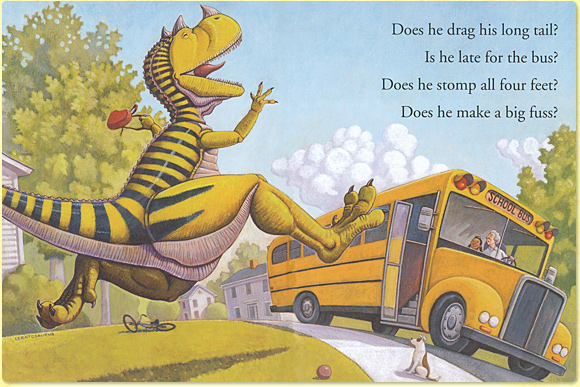 From How Do Dinosaurs Go to School? Text copyright © 2007 by Jane Yolen. Illustrations copyright © by 2007 Mark Teague. All rights reserved.