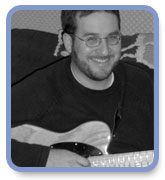 Jordan Sonnenblick
Born:
July 4, 1969
Fort Leonard Wood, Missouri,
United States Of America

Current Home:
Bethlehem, Pennsylvania,
United States Of America

Jordan Sonnenblick always wanted to be a writer, so one day in 2003 he started in on the book that became Drums, Girls & Dangerous Pie. It was published by Scholastic Press in 2005 to great acclaim, and was named to several Best of 2005 lists, including the American Library Association's Teens' Top Ten. It was also chosen to be part of the "Go the Distance" literacy initiative, which is a collaboration between Muhammad Ali and Scholastic.

In 2006, Scholastic published Jordan's second young adult novel, Notes from the Midnight Driver. A story about drunk driving, lawn gnomes, divorced parents, a unique old man, and a beautiful girl with deadly hobbies, it received several starred reviews, and has been translated into various foreign languages. Jordan's next book, Zen and the Art of Faking It, is the tale of San Lee, an eighth grader who gets tired of fitting in. And when San decides to stand out -- Zen style --things get seriously weird, with bullies, bugs, b-ball, and a beautiful girl named Woody. Written with Jordan's trademark poignancy and humor, Zen will be published in the fall of 2007.

Jordan Sonnenblick is a graduate of the University of Pennsylvania, a former Teach For America corps member and a former middle-school English teacher. He loved teaching because his students inspired him every single day. Plus, as Jordan says, it's pretty much the only job that pays you to hang out and read with people you like.

Jordan lives in Bethlehem, PA with the most supportive wife and lovable children he could ever imagine. Plus a lot of drums and guitars in the basement.