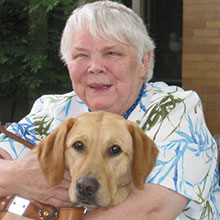 Photo credit: D. Johnston
Jean Little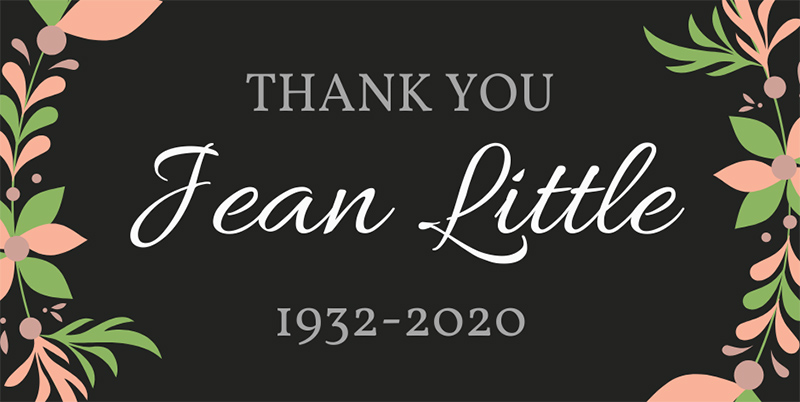 Jean Little was a giant of children's literature, loved and renowned in Canada and around the world. From her very first book, Mine for Keeps, about a girl with cerebral palsy, she became known for changing the way children with physical and psychological disabilities were portrayed in books for young readers—not as idealized, suffering characters waiting to be miraculously "fixed," but as ordinary and imperfect children whose concerns and trials, while sometimes far from average, were universal. Perhaps her most famous and best-loved book, From Anna, was informed by her own childhood as a girl with a vision impairment. Like Anna, Jean never let anyone tell her what she couldn't do. She earned an Honours English degree from the University of Toronto, worked as a teacher of special needs children, and became a famous writer, instantly recognizable in the literary community with her guide dog, outspokenness and sharp wit.
Jean's works include five titles in the bestselling Dear Canada series; the novels Hand in Hand and Dancing through the Snow; and the picture books Pippin the Christmas Pig, Wishes and Sweetest of All.
Her books have won numerous awards, and Jean herself was honoured with the Order of Canada, the Vicky Metcalf Award for Literature for Young People, and the Matt Cohen Award: In Celebration of a Writing Life.
Jean died in Guelph, Ontario, where she lived for most of her life. She was 88. We will miss her brilliant writing, her ability to see the truth within her characters, and her willingness to follow wherever they chose to take her and her readers.