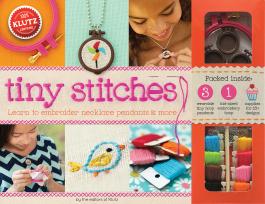 Klutz / Scholastic Canada Ltd.
ISBN: 9780545805476
Ages 10 & Up
Tiny Stitches
Petite embroidery projects you can wear or display!
With more than 15 million Google listings for embroidery and 5.6 million blog posts for tiny embroidery, I think we can safely say that sewing is on trend. But this isn't your grandmother's needlepoint . . . and you know that we at Klutz love a trendy twist on a traditional craft!
Tiny Stitches will teach you how to make quick, hip, tiny embroidery and turn it into decorative pieces you can wear or display. Learn the basics of sewing with Klutz-clear instructions, then show off finished sewn art on penny-sized hoops that can be made into necklace pendants, buttons, hair clips, and more.
With 8 colours of floss, 10 pieces of fabric, 3 tiny display hoops, and over 100 adorable patterns for tracing - including miniature foods, itty-bitty animals, and more! — this book includes everything you need to make wee art and show it off!
Comes with: 54-page book of instructions; 1 embroidery hoop to sew; 3 tiny hoops to display; 1 necklace; 10 pieces of fabric; 8 colours of floss; 2 embroidery needles; over 100 patterns; reusable transfer paper and a wooden stylus to trace designs onto fabric.
Click here for more