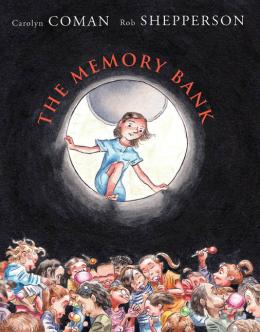 The Memory Bank
Scholastic Inc | ISBN 9780545210669 Hardcover
288 Pages | 6.22" x 7.77" | Ages 8 to 12

the Memory Bank is the story of Hope Scoggins, who lives with her beloved sister Honey and hideous parents they share. In fact these parents are so horribly awful that one day, when the sisters disobey the "no laughing" rule, they banish Honey forever, telling Hope that she must simply "forget" her.

Honey is picked up immediately and joyfully taken care of by a group of organized misfits called the Clean Slate Gang. But Hope doens't know this. She only knows that she HAS to find her sister agian, before her memories DO fade and before it's too late for them to have a life of happy memories together.

But before that can happen, Hope receives a letter from the Worldwide Memory Bank, telling her that her account is in disarray. She's picked up by an agent named Obleratta and hustled off to the Bank itself to sort out the problem. There she learns the process of how dreams and memories are kept safe. And she also learns that the Worldwide Memory Bank and the Clean Slate Gang are at war.

The story of how Hope makes her way through this brewing conflict and rescues her little sister is full of tension and suspense, set in a vividly imagined world of strange machines and wonderful characters. It's a new classic. A gentler Coraline. A contemporary Dahl. A delicious Coman.