The Many Moods of Me Journal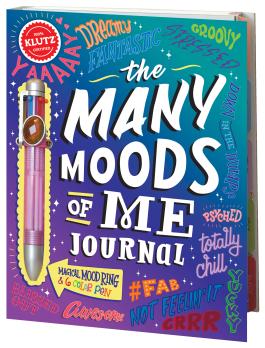 Klutz / Scholastic Canada Ltd.
ISBN: 9780545805469
Ages 8 & Up
The Many Moods of Me Journal
A journal that knows exactly how you feel.
Here at Klutz, we think being moody gets a bad rap. After all, feelings are what make you, well, you. So, we designed a journal jam-packed with gorgeous, handdrawn prompts that celebrate your emotions — the good, the bad, and the weird.
The Many Moods of Me Journal is your all-in-one companion on the quest to work out what's going on inside your head. Just slip on our magical mood ring to get a read on your feelings, find the corresponding color on our 6-colour (addictively clickable) mood pen, and then flip to the section tailor made to help you find your center no matter where your head's at. Rate your mood on a scale of "swell" to "out of sorts," write postcards to your future self about how you're feeling, and boost your mood with quirky doodles.
Being moody is no longer a bad thing. You're welcome.
Comes with: 76-page journal, mood ring, 6-colour ballpoint pen
Click here for more