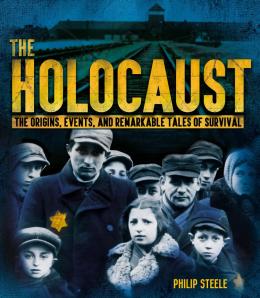 The Holocaust: The Origins, Events, and Remarkable Tales of Survival
Scholastic Inc | ISBN 9781338030402 Hardcover
96 Pages | 10.49" x 12" | Ages 8 to 12
A detailed new look at one of history's darkest events, with dramatic photographs and heroic eyewitness accounts.
During World War II, six million Jewish men, women, and children lost their lives under the Nazis, in one of the darkest events of modern history. The Holocaust: The Origins, Events, and Remarkable Tales of Survival is a thought-provoking new book that explores the complex reasons behind what led to the Holocaust, examines what life was like in concentration camps, and retells incredible stories of heroism in a sensitive and accessible way for a young audience.
Featuring full-colour contemporary illustrations, maps and charts, and historical photographs, this beautiful large format book will appeal to parents and teachers who want to introduce this subject to young readers. Eyewitness accounts and real-life stories of loss, courage, and survival bring a humanity and immediacy to the facts and images, making The Holocaust a compelling and invaluable read for a new generation.