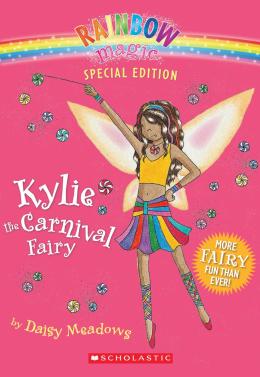 Rainbow Magic Special Edition: Kylie the Carnival Fairy
Scholastic Inc | ISBN 9780545054751 Paperback
192 Pages | 5.25" x 7.6" | Ages 4 to 8
A new Rainbow Magic Super Special, just in time for summer!
Jack Frost is at it again! He and his goblins are always causing trouble for the fairies. This time, they've stolen the three magic hats that make Wetherbury's annual carnival so much fun. If Kylie the Carnival Fairy doesn't get them back, the carnival will be ruined!
Can Rachel and Kirsty help Kylie track down the hats? Or will this year's carnival be a giant flop?
Raves & reviews:
Praise for Rainbow Magic: Kylie the Carnival Fairy
"Youngsters have long found fairies fetching, and a successful series from Scholastic suggests these winged beings continue to enchant. The books... clearly tickle the fancy of American girls." Publishers Weekly