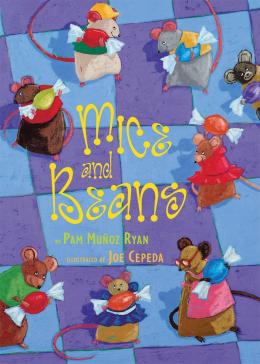 Mice and Beans
Scholastic Inc | ISBN 9780439183031 Hardcover
32 Pages | 7.83" x 11.26" | Ages 4 to 8

Recipe for a Festive Story Time

Ingredients


1 birthday party
1 grandma who loves to cook
1 delicious Mexican meal
1 cake
1 pinata
1 bag of candy
1 big present
lots of children, grandchildren, aunts, uncles, and cousins several surprise visitors

Mix all the ingredients into a fun romp. Add comic illustrations, jaunty rhythms, and playful refrains. Spice with a mystery. Stir the whole thing into a book. Serve aloud to large groups or small. Store leftovers on a shelf in a child's bedroom, a library, or a classroom.

They keep forever!