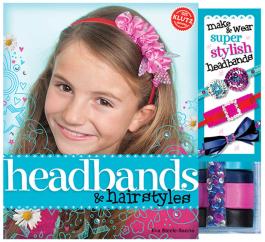 Klutz / Scholastic Canada Ltd.
ISBN: 9781591748649
Ages 8 & Up
Headbands and Hairstyles
Nothing beats a headband for keeping your hair in style and out of your eyes. No wonder they are the current fashion accessory of choice, seen on celebrities, fashion models, and regular girls everywhere. But with all the stylish options out there — classic bows, glimmering bands, sporty elastics — finding the perfect headband can get pretty hairy.
Enter Headbands & Hairstyles, everything a girl needs to design, make, and wear headbands in her own personal style. This chic how-to book shows young designers how to wrap the band and then make and attach super-cute embellishments like bows, ruffles, and flowers. Of course, all the supplies to make three uniquely beautiful headbands are provided.
Since half the fun of a headband is in how you wear it, we also include step-by-step instructions for five beautiful banded hairstyles. From a sleek ponytail to a pretty side-sweep to a fancy looped bun, there's something here for everyone. Whether your look is boho, fancy, preppy, or sporty, Headbands & Hairstyles is just your style.
Click here for more