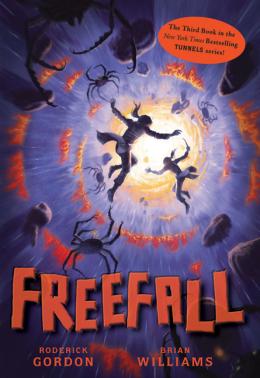 Freefall: Tunnels Book Three
Scholastic Inc | ISBN 9780545138772 Hardcover
608 Pages | 6" x 8.5" | Ages 9 to 17

Deeper ended with Will and Chester head over heels in Freefall-tumbling through the subterranean Pore with the evil Rebecca twins in hot pursuit, both toting phials of the lethal Dominion virus. When, where, will they ever land?! The boys find themselves in a realm of near-zero gravity, on a spongy fungus concealing artificats from some prehistoric Eden at the center of the Earth. They may be on the edge of an underground heaven-but with the Styx dead-set on enslaving Topsoilers, all heck's breaking loose up above.
Raves & reviews:
Praise for the Tunnels series:
"Compelling." -Booklist, starred review
"Exciting." -Kirkus Reviews
"Thrilling." -The Columbus Dispatch
"Nonstop action for readers who aren't afraid of the dark." -School Library Journal
"An amazing world-with astonishing twists and surprises hiding around every corner." -www.teenreads.com
"Fantastic fun-has a claustrophobia and griminess all its own.Well paced, exciting, and-in places-frightening. (You have been warned.) The danger in the darkness is very real and is well worth the wait." -Philip Ardagh