Design & Dye With No-Heat Batik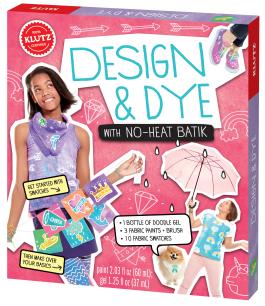 Klutz / Scholastic Canada Ltd.
ISBN: 9780545858434
Ages 8 & Up
Design & Dye With No-Heat Batik
Make works of wearable art!
For centuries, batik artists around the world have used hot wax to add amazing, hand-dyed designs to everything from intricate tapestries to one-of-a-kind scarves. Now, Klutz introduces a no-heat, mess-free way to tackle this stunning art at home!
With Design & Dye, turning drawings into colourful, wearable designs is as simple as "trace, paint, and wash." Our doodling gel and collection of fun, traceable art makes creating unique styles a snap. And, after a crash course in pattern making and colour mixing, 50 designs and 3 paint bottles become endless possibilities!
We provide 10 fabric swatches so kids can try out tons of designs. Once they've found their favourites, they can use the same easy technique and materials to refashion anything in the closet. It's the perfect craft for fashionistas-in-the-making and creative kids who like to colour outside the lines!
Comes with: 48-page book of instructions, doodling gel, 3 paint colours, 10 fabric swatches, plastic page protector, paintbrush
Click here for more