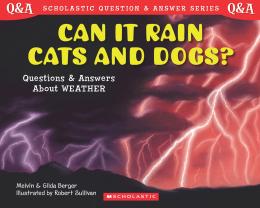 Can It Rain Cats and Dogs?: Questions and Answers about Weather
Scholastic Inc | ISBN 9780439085731 Paperback
48 Pages | 10.05" x 8.03" | Ages 4 to 8

'This book will answer children's questions about weather as it explores the basics in beautifully illustrated sections on sun, air, and wind; rain, snow, and hail; and wild weather like hurricanes and tornadoes. The questions and answers should help to appease even the most curious child's need to know why the weather keeps changing, what happens to puddles after it rains, if you can smell the rain, if lightning can grow hair, and if groundhogs really can predict the weather.
Raves & reviews:
REVIEWS: Booklist, November 1, 1999: "Each book in the Scholastic Question and Answer series focuses on a particular area of science, asking questions related to the topic and answering each query with one or more paragraphs of pertinent information. Although the idea has been tried before, this series works better than most in that it organizes the material well, it asks questions that children may actually have posed, and the answers are clear and precise. Stars introduces topics in astronomy, from "Do asteroids ever strike Earth?" to "Is there life elsewhere in the solar system?" The Bergers are being responsible as they qualify some replies with phrases such as "Most scientists think." Often dramatic and beautiful, the paintings illustrate the text quite effectively. Flies explores the world of insects, answering questions such as "Do insects have tongues?" and "How can you tell a moth from a butterfly?" The colorful illustrations are detailed, vivid, and well conceived. A science series attractive enough for browsers, yet solid enough to help support the curriculum." --Carolyn Phelan School Library Journal, December 1999: "These series entries will answer many of the questions children have about the subjects covered. . . .The student-friendly questions-and-answer format is appealing, with simple and concise one or two paragraph answers and attractive, colorful illustrations. Basic up-to-date information presented in a chatty, readable style." --Eunice Weech