Beaded Bands: Super Stylish Bracelets Made Simple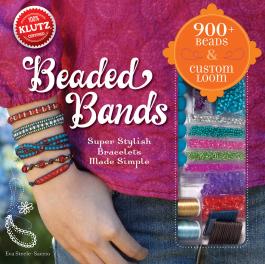 Klutz / Scholastic Canada Ltd.
ISBN: 9780545449342
Ages 10 & Up
Beaded Bands: Super Stylish Bracelets Made Simple
Totally fashionable bracelets that are totally easy to make!
You've seen them — gorgeous beaded bracelets worn wrapped or stacked on stylish wrists everywhere. So cute! So cool! And, as our talks with moms and girls confirm, so popular! So, naturally, a Klutz book was born.
Looking at the finished jewelry (pretty, polished, professional), you might think these bands are difficult to make. In fact, this is our favourite kind of craft project — simple to do, with simply stunning results. All seven of our unique designs use a very basic weaving process, explained in super-clear instructions that we tested with kids. Their verdict? Easy, satisfying, and fun.
Beaded Bands comes with a custom loom that stands up for beading and lays flat for storage. As always, you also get all the craft materials you need: three perfectly-sized needles, cotton cord, beading thread, and over 800 hand-selected, girl-approved beads. Then we put it all in a pretty package that includes a convenient, re-closable storage tray. Who knew being fashionable could be this easy?
Click here for more