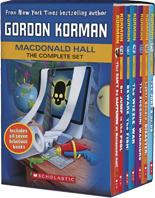 Scholastic Canada Ltd.
ISBN 978-1-4431-2819-3 Box set


Look out Macdonald Hall: Here come Bruno and Boots — roommates, troublemakers, and practical jokers extraordinaire. Boarding school will never be the same!
Join two of Gordon Korman's most memorable characters in seven side-splitting, rip-roaring adventures! Macdonald Hall is the series that started it all, and thirty-five years later it remains a must-read for old fans and new, the young — and the young at heart.
Includes all 7 bestselling books:
This Can't Be Happening at Macdonald Hall
Go Jump in the Pool
Beware the Fish!
The Wizzle War
The Zucchini Warriors
Lights, Camera, Disaster!
The Joke's On Us
Remember, much is forgiven!