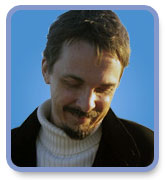 1
Jon J Muth
Born:
Cincinnati, Ohio,
United States Of America

Current Home:
New York,
United States Of America

Jon J Muth's highly acclaimed picture books are beloved around the world and have been translated into more than ten languages. He was born and grew up in Cincinnati, Ohio. He drew and drew and drew and drew, and painted. His mother was an art teacher and she took him to museums all over the US. He had his first one-man exhibit of paintings and drawings at the invitation of Wilmington College when he was eighteen.

He studied stone sculpture in Japan; paintings, prints and drawings in Austria, Germany, and England and he was an English major at SUNY, New Paltz. But most of his education as an artist came from an informal apprenticeship with two fine artists. His comic books have been published by DC/Vertigo, Eclipse Books, NBM, Donald M. Grant Publishers, Inc. and in Japan, Kodansha.

For BBC educational television, in 1991, Muth created a short graphic story for which he also produced the music and narrated. In comics he has won the Eisner Award for excellence in painting. In 1994 he was commissioned by the Cincinnati Symphony Orchestra to paint a portrait of music director, Jesus Lopez-Cobos. Two books about his paintings, Vanitas : Paintings, Drawings and Ideas, 1991, and Koan, 2000, have been published.

"My work in children's books really grew out of a desire to explore what I was feeling as a new father," states Muth. "I was working in comics and that is a natural forum for expressions of angst and questioning one's place in the universe. When the children came it became important to say other things about the world. With the birth of my children, there was a kind of seismic shift in where my work seemed appropriate. In 1995 I created the comic strip IMAGINARY MAGNITUDE for a Japanese magazine and that was where my work began to express the very real delight I find in being a parent."

All of Muth's work has received awards and critical acclaim. Zen Shorts was named a Caldecott Honor Book and spent 41 weeks on the New York Times bestseller list. The art for his first children's book, Come On, Rain!, written by Karen Hesse, won the Gold Medal from the Society of Illustrators in 1999. Gershon's Monster by Eric Kimmel, was an ALA Notable Children¹s book, winner of the Sydney Taylor Award, as well as a National Parenting Book Award, and was a finalist for the National Jewish Book Award. Stone Soup also won a National Parenting Book Award. The Three Questions was a Book Sense book of the Year finalist and a NCSS/CBC Notable Social Studies Trade Book for Young People. Muth also did the illustrations for Old Turtle and the Broken Truth, written by Douglas Wood, and I Will Hold You 'Til You Sleep, by Linda Zuckerman.

Muth lives in upstate New York with his wife and four children, where he spends time "chasing the clouds from his brushes."