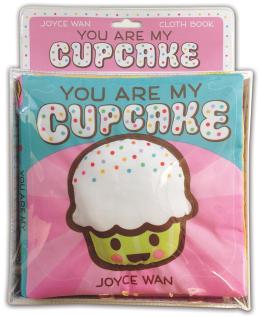 You Are My Cupcake: A Cloth Book
Scholastic Inc | ISBN 9781338029215 Rag book
6 Pages | 7.59" x 10.07" | Ages 0 to 3
An irresistible crinkly cupcake cloth book to cuddle up with and love!
You Are My Cucpake is the story that started it all — now in a touchable, huggable, squeezable cloth book format that babies will cherish. With Joyce Wan's appealing cheerful plush cupcake on the crinkly cover and more chubby, happy, smiling objects on the inside, babies and parents alike will delight in this colorful, soft storybook all about sweet, delicious love!
Safe for all ages.
Raves & reviews:
Praise for You are My Cupcake
"You Are My Cupcake is the perfect book to snuggle up to and read to a baby or a younger child! It's short and sweet (literally! ;) ) It would also make a fabulous addition to a baby gift or birthday gift." —Glimpse Reviews
Praise for Peek-A-Boo Zoo
"The warm, round illustrations provide a soothing tone, making this a perfect late-afternoon read right before naptime." —Kirkus Reviews
"Working in her characteristic aesthetic of rounded, chunky shapes, Wan assembles a cute-as-can-be cast that includes a penguin, hippo, and more... A fun addition to the book-as-game category." —Publishers Weekly
Praise for Are You My Mommy?
"The book radiates warmth with soft curved lines used to form the characters and scenery. Distinct visual patterns add an extra dimension to each page." —Kirkus Reviews