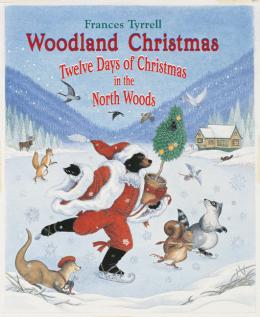 Woodland Christmas: Twelve Days of Christmas in the North Woods
Scholastic Canada Ltd | ISBN 9780439937955 Paperback
32 Pages | 7.98" x 9.99" | Ages 4 to 8

The familiar and beloved Christmas carol "The Twelve Days of Christmas" comes to life in an enchanted woodland forest. In this rendition of the classic verse, the narrator and her true love are two black bears who carry on a court-ship in grand 18th century style. To illustrate the twelve gifts Santa Bear gives to his true love, beautiful North American woodland creatures are shown in breathtaking colour and detail. The eight maids a-milking are cuddly raccoons fl oating through the Milky Way, and even the three French hens are dressed for the occasion-skates and all! Woodland Christmas is certain to delight kids and nature lovers alike.