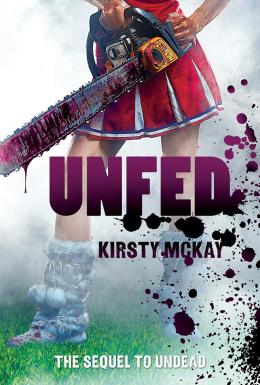 Unfed
Scholastic Inc | ISBN 9780545536721 Hardcover
288 Pages | 5.8" x 8.52" | Ages 14 & Up
Scholastic Inc | ISBN 9780545536752 Ebook
288 Pages | Ages 14 & Up
Fresh meat! From a hospital of horrors to a runaway zombie train, it's an all-new onslaught of the slavering undead in the sequel to Kirsty McKay's killer debut!
Just when you think you're out . . . it's the morning after the night of the return of the living dead?! Or something like that. After running / busdriving / snowboarding for her life alongside rebel Smitty, geeky Pete, and popular Alice, Bobby thought she'd found the antidote to the Carrot Man Veggie Juice that had turned the rest of their classmates into zombies. She'd pumped it into Smitty herself after he got chomped! (Mmm . . . nom . . . nom . . . )
But now he's missing. What if he isn't cured after all? Bobby knows she's got to find him, even if it means facing Scotland's zombie-plagued highlands — not to mention Alice's buckets of snark — again. And this time, the zombies aren't the only evil chasing her. The brain-dead are bad enough, but how can she stop the big pharma business behind the epidemic? Epecially when her mom works for the company?!
Raves & reviews:
Praise for Undead
"A kick-ass teen-action zombie fest. Fast, furious, freaky, funny, and seriously sick. Oh, and did I mention it kicks ass?" —Charlie Higson, author of the Young Bond and Enemy series*
"A hilarious and lively mix of cunning, bravery, and tomfoolery . . . First-rate fun." —School Library Journal
"McKay plays her tale for maximum snark . . . humor and action keep the pages turning . . . Blood spurts; entrails drag; body parts shed; hearts (living ones) throb — it's all good, gory fun." —Kirkus
"The typical school-centered zombie story is given a fabulous reboot in McKay's debut novel . . . The perfect balance of humor and horror . . . A fun, pulse-pounding addition to the zombie genre." —VOYA
"Fun to devour." —Booklist