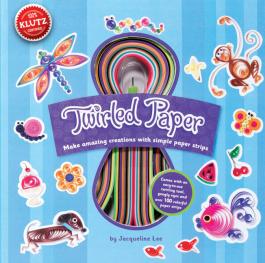 Klutz / Scholastic Canada Ltd.
ISBN: 9780545459914
Ages 10 & Up
Twirled Paper
Turn simple paper strips into super paper art!
In 2006, we introduced a book on the venerable art of quilling. Being Klutz, we gave the topic a fresh, friendly spin, with plenty of kid-appealing projects and bright, juicy colour. But, even so, we were a little concerned about the response such an old-fashioned craft would receive.
We shouldn't have worried. More than 400,000 copies later, Twirled Paper is still going strong. Turns out kids (and — surprise! — grown-ups) love creating quirky, curly artwork out of strips of coloured paper. So now we're thrilled to introduce a whole new generation to the craft.
We've updated the package to our sturdy new easy-to-wrap, easy-to-stack, open-flat box. Along with plenty of space to store all the paper strips, glue, googly eyes and custom twirling wand, we've added a new built-in pinboard work surface. Of course, the book itself is still a cornucopia of ideas for using these supplies to make aliens, alphabets, bugs, birds, cats, cows, flowers, frogs, food, moons, monkeys, and more. Enough to make a whole twirled world!
Click here for more