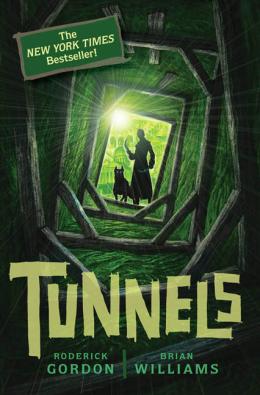 Tunnels
Scholastic Inc | ISBN 9780545078818 Paperback
496 Pages | 5.27" x 7.58" | Ages 9 & Up
The New York Times bestseller-now in paperback!
Will Burrows shares one bond with his odd father: an obsession with archaeological digs. When the two discover an abandoned tunnel buried beneath modern-day London, they think they're on the brink of a major find.
Then Dad vanishes.
Helped by his best friend Chester, Will decides to investigate his father's disappearance. Soon the boys are lost in a dark underworld, desperate to escape the clutches of a cruel ruling cult. The deeper they descend, the deadlier it gets!
Raves & reviews:
Praise for the Tunnels series:
"Compelling." -Booklist, starred review
"Exciting." -Kirkus Reviews
"Thrilling." -The Columbus Dispatch
"Nonstop action for readers who aren't afraid of the dark." -School Library Journal
"An amazing world-with astonishing twists and surprises hiding around every corner." -www.teenreads.com
"Fantastic fun-has a claustrophobia and griminess all its own.Well paced, exciting, and-in places-frightening. (You have been warned.) The danger in the darkness is very real and is well worth the wait." -Philip Ardagh