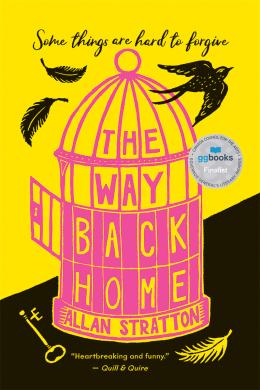 Read an excerpt
Watch a video
Awards
Short-listed, OLA Red Maple Award, Fiction, 2018
Short-listed, Governor General's Award, Young People's Literature - Text, 2017
The Way Back Home
Scholastic Canada Ltd | ISBN 9781443148382 Hardcover
280 Pages | Ages 12 & Up
Scholastic Canada Ltd | ISBN 9781443148405 Ebook
280 Pages | Ages 12 & Up
ZOE BIRD IS GOING NOWHERE FAST.
She's angry and lonely, and her only true friend is her granny, whose Alzheimer's is worsening.
When her parents put Granny in a home, Zoe decides now is the time to break free. She smuggles Granny out and together they hit the road on a trip to find Zoe's long-lost uncle.
But there will be some home truths along the way. . .
From award-winning storyteller Allan Stratton comes a moving story of unresolved family conflicts, and a young girl's awakening to the things that matter most.
Raves & reviews:
"Beautiful, heartbreaking, yet wonderfully funny." — SUSIN NEILSEN
"Raw, funny, brutal and profoundly humane. It broke my heart and then healed it again." — SUSAN JUBY
"Terrific. I read it in one big gulp." — GARY D. SCHMIDT
Extras: