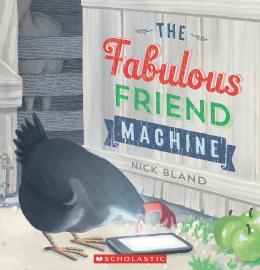 Read an excerpt
Available in French
Awards
Commended, Resource Links, Best of the Year, 2017
The Fabulous Friend Machine
Scholastic Canada Ltd | ISBN 9781443157476 Hardcover
32 Pages | 9.72" x 10.15" | Ages 3 to 8
Popcorn the chicken has found a Fabulous Friend Machine — and now she's going to have more friends than ever! What could go wrong?
When Popcorn, the friendliest chicken at Fiddlesticks Farm, finds a forgotten smartphone in the barn, she sets about making some brand new friends. Soon she is so busy sending messages to them that she begins to forget her old friends. When a meet-up with her new friends is about to end in disaster, the quick-thinking animals of Fiddlesticks Farm save the day . . . and one relieved chicken learns a lesson.
A cautionary tale from the bestselling creator of The Very Cranky Bear series.
Raves & reviews:
Praise for Nick Bland:
"This adorable, vocabulary-enriched story teaches young children the power of humility and consideration over pride and vanity." —CM: Canadian Review of Materials (The Very Cranky Bear)
"It is very rhythmic in tone with funny twists of phrase that make you laugh and think at the same time." —CM: Canadian Review of Materials (The Very Itchy Bear)
"The Very Hungry Bear is a pleasure to read and is one book I can see myself pulling out for story times again and again." —CM: Canadian Review of Materials (The Very Hungry Bear)