The Fabulous Book of Paper Dolls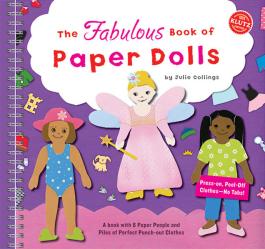 Klutz / Scholastic Canada Ltd.
ISBN: 9781570546310
Ages 4 & Up
The Fabulous Book of Paper Dolls
Back in the Fall of 2001, Klutz created
The Fabulous Book of Paper Dolls
, and it's a good thing we did. Almost 800,000 copies later, we are happy to say we have given it a brand-new face without messing with the time-tested content.
These paper people wear their clothes with the help of reusable, press-on, peel-off adhesive dots — no tabs! The dolls, clothes, and accessories are perforated, ready to pop right out and play.
Six reversible paper dolls in a variety of skin tones come with the book. Half of them have pre-printed faces, and the other half are ready to be customized. There are bunches of reversible clothes, shoes, and hairstyles that make exactly one jillion different combinations. (We counted.) Of course, any fashion expert will tell you that accessories are the key to snappy dressing, so we've provided plenty of them, from hats to sunglasses to soccer balls to tiaras. To round out the family, three baby paper dolls and a few paper pets are also included.
Artists from around the globe were commissioned to create six beautifully illustrated backdrop scenes. Prop open the book to one, and your dolls are transported to a beach, ballroom, theatrical stage, neighborhood park, winter wonderland, or only-slightly-messy kids' bedroom. In the back of the book is a nifty portfolio-pocket armoire, providing plenty of wrinkle-free storage for the dolls, clothes, and accessories after they've been punched out.
The Fabulous Book of Paper Dolls is a fabulous introduction to a classic activity — now freshened up for a whole new generation.
Click here for more