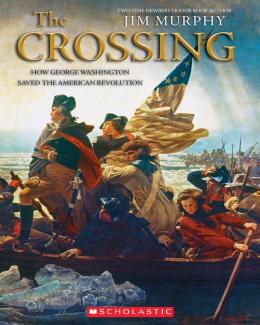 The Crossing: How George Washington Saved the American Revolution
Scholastic Inc | ISBN 9780439691871 Paperback
96 Pages | Ages 9 to 12
Two-time Newbery Honor Book author Jim Murphy tells the awe-inspiring story of George Washington!
It is 1776, and George Washington and his army of rebellious American colonists are emboldened by its stunning victories over the British at Lexington and Concord. But now, the Americans face the threat of a brutal British retaliation.
George Washington, who has little experience with a threat of this magnitude, is unanimously chosen as commander in chief in hopes he can unite the colonies. Britain's army is massive and well trained. America's is small and unruly. As the British begin their invasion of New York City and its environs, George Washington isn't the only one who is overcome with doubts that he can succeed against such overwhelming odds.
In this breathtaking account of a pivotal time in the American Revolution, two-time Newbery Honor Book author Jim Murphy shows George Washington's transformation from a gentleman farmer with little military experience to a brilliant general, as he delivers the country from the blackest of times—into the brightest of futures.
Raves & reviews:
Praise for Jim Murphy
A Newbery Honor for The Great Fire
A Robert F. Sibert Honor for Blizzard!
* "Spectacular!"—Kirkus Reviews, starred review of Truce
* "An example of stellar non-fiction." —Booklist, starred review of Blizzard!
* "A veritable cinematic account." —Kirkus Reviews, starred review of The Great Fire