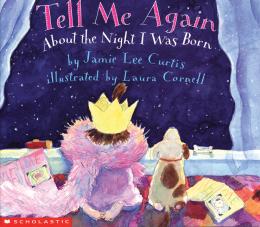 Tell Me Again About the Night I Was Born
Scholastic Canada Ltd | ISBN 9780590038393 Paperback
32 Pages | 10" x 8.73" | Ages 3 to 7
A little girl asks her adoptive parents about the night she was born.
Children love to hear about the night they were born, and Jamie Lee Curtis has captured that magical moment beautifully. Any adopting family can relate to the words, "Tell me again how the phone rang in the middle of the night and they told you I was born. Tell me again how you screamed!" This critically acclaimed book celebrates the birth of a new family as a spirited little girl asks her parents to recite the tale of the night she was born.
A unique, exuberant story about adoption and about the importance of a loving family.