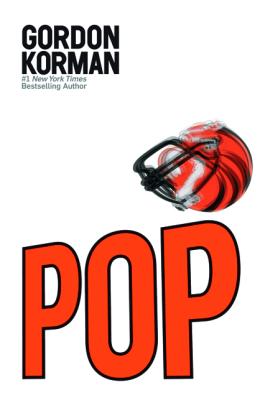 Awards
Short-listed, OLA Red Maple Award, Fiction, 2011
Pop
Scholastic Canada Ltd | ISBN 9781443124607 Ebook
272 Pages | Ages 12 & Up
Scholastic Canada Ltd | ISBN 9781443104715 Paperback
272 Pages | 5.02" x 7.76" | Ages 12 & Up
Gordon Korman's acclaimed and timely YA novel explores the dangerous side of high school sports.
Marcus is new in town and is hoping to make the championship high school football team, but it seems like a closed club, run by current star Troy.
One day, while tossing the ball around in a park, Marcus meets Charlie, a man in his fifties who can play football like an old pro, which is exactly what he happens to be — a former NFL player and local celebrity. Charlie has boundless energy and coaches Marcus on his fear of being tackled, but as Marcus becomes more involved in this friendship it becomes painfully obvious to him, through the simplicity of Charlie's thoughts, that the long-term effects of the violent plays he suffered during his glory days have taken their toll.
With wit and sensitivity, Gordon Korman tackles truths about high school sports and the quirky, yet poignant friendship that develops between Marcus and Charlie.
Raves & reviews:
Praise for Pop:
"A frank examination of the potential consequences of contact sports... [Pop] will definitely please any young reader who likes a good, scrappy sports story where jockstrap gags energetically collide with thoughtful revelations." —The Globe and Mail