Pom-Pom Monster Salon: Create, Cut & Style Your Own Monsters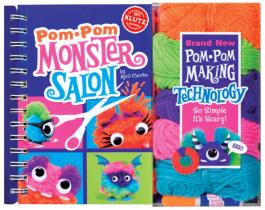 Klutz / Scholastic Canada Ltd.
ISBN: 9780545346245
Ages 8 & Up
Pom-Pom Monster Salon: Create, Cut & Style Your Own Monsters
Pom-poms get a monster makeover
There's always been something incredibly satisfying about making pom-poms. Ask any kid — transforming ordinary yarn into fuzztastic fluffballs is totally awesome. And now, with our amazing new pom-pom maker, it's easier than ever. Just wrap, snap, and snip! But here's the big news: Making pom-poms is just the beginning.
With Pom-Pom Monster Salon, anyone can create homemade pom-poms that have real personality. Our pom-pom maker is marked with a simple number code that makes it easy to make custom pom-poms in endless colour combinations. Super-clear cutting and styling instructions let you perfectly coif your creations with mop tops, afros, pigtails, mohawks — just about any style you can imagine. Adding the included accessories, like tiny hair bows, punch-out feet, wings, and horns, and foam teeth, brings out the beauty in your pom-pom beast.
Everything you need is here, including glue, googly eyes, 85 feet of crazy-bright yarn, and a built-in tool for math-free measuring. We even provide a functional comb, for 'dos that flaunt maximum frizz. Any way you style it, we're pretty sure we've got a monster hit on our hands.
Click here for more