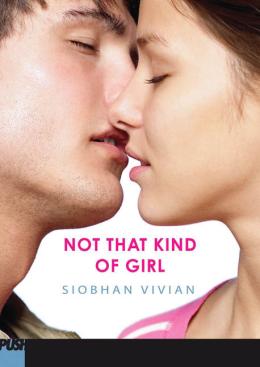 Not That Kind of Girl
Scholastic Inc | ISBN 9780545169158 Hardcover
336 Pages | 5.21" x 7.33" | Ages 14 & Up

Seventeen-year-old Natalie Sterling, a B-minus-meets-type-A student, has just been elected student council president. It's not quite as glamorous as it sounds, but it definitely gets interesting when she tries to 'rehabilitate' a pack of hyper-sexualized freshmen girls whose pep rally prank tarnishes their school's reputation. Natalie wants to teach them that sex isn't important—while at the same time she gets involved in her first relationship (and tries to keep it a secret). As her public life and secret romance intertwine, Natalie has to learn how to live in the real world— and discover the difference between sex as a ploy and sex as something meaningful.

What Mean Girls did for girl bullying, Not That Kind of Girl does for girls' empowerment. With an honest heart and a fearless eye, Siobhan Vivian conveys what it's like to be caught in the virgin/slut conundrum—and how middle ground is often the best place to be.
Raves & reviews:
Praise for Same Difference
"Readers who have wondered, 'are these the friends and the life I want to have?' will see themselves reflected in Emily's achingly real struggles, heartbreaks and triumphs." —Kirkus Reviews, starred review
"Vivian serves up the story with vivid description and dialogue; the author's talent for scene-setting and evocative imagery is especially effective for a story about a girl just discovering her eye as an artist and herself as a person." —Publishers Weekly

Praise for A Little Friendly Advice
"Populated with real characters who have authentic emotions, this debut novel manages to be at once uplifting and heart wrenching. Vivian is clearly an author to watch." —Kirkus Reviews
"Cultural references keep the narrative hip, but it's Vivian's skill at subtly shaping the personalities that makes the book work." —San Francisco Chronicle
"A bright new voice that holds nothing back." —Cecil Castellucci, author of Boy Proof