Make Your Own Washi Tape Stickers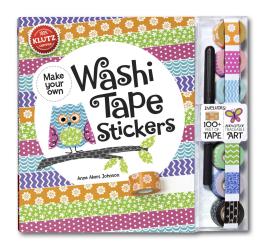 Klutz / Scholastic Canada Ltd.
ISBN: 9780545647762
Ages 8 & Up
Make Your Own Washi Tape Stickers
Shape this tape into crazy cute stickers!
If you haven't discovered washi tape yet, let us introduce you. Originating in Japan, washi tape works just like its plainer cousin, masking tape. It sticks easy to most surfaces and then peels off when you want it to. But, unlike masking tape, washi tape's fresh patterns and juicy colours transform everything it sticks to into something beautiful. No wonder it's taking the craft world by storm.
Washi Tape Stickers is the only book that makes it easy to turn strips of this pretty little tape into even prettier little stickers. The book is filled with page upon page of traceable art and comes with six beautifully bright colours of washi tape, a stack of special peel-off backing paper, and a fine-line felt-tip pen. Simply trace a piece of art on the backing paper and cover it with washi tape. Then cut it out, peel it off, and you've got a perfectly shaped, perfectly adorable sticker.
Of course, washi tape stickers look great on school binders, secret notes, and birthday cards. But, because they stick and peel off so cleanly, they also make adorable decorations for lockers, windows, mirrors — practically anywhere. Go ahead, washi your world.
Come with: 8 rolls of washi tape, 30 sheets tracing paper, black felt-tip marker
Click here for more