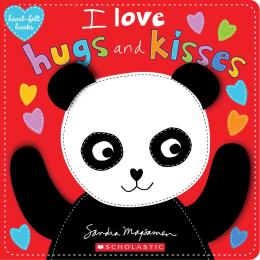 Heart-felt Books: I Love Hugs and Kisses!
Scholastic Inc | ISBN 9780545927963 Hardcover
12 Pages | 7.99" x 8.01" | Ages 0 & Up
Bestselling creator Sandra Magsamen offers little ones a huggable, kissable board book with soft felt cover effects, perfect for cuddle time... or anytime!
Hugs and kisses everywhere we go — because I love, love, love you so!
Featuring adorable animals of every shape and size — from sweet pandas and foxes to owls and ducks — everyone is ready for hugs and kisses everywhere they go! With huggable felt panda ears and arms on the front cover, and bold, graphic art on every page, combined with Sandra's warm and reassuring message of love, this is the perfect book for cuddling up with little ones and lavishing them with the hugs and kisses they adore.