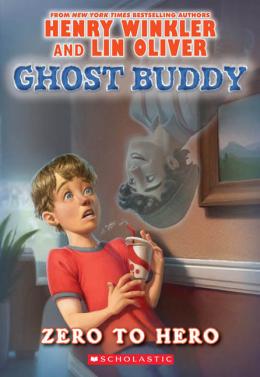 Ghost Buddy Book One: Zero to Hero
Scholastic Inc | ISBN 9780545298827 Paperback
176 Pages | 5.28" x 7.56" | Ages 8 to 12
A hilarious new series from Henry Winkler & Lin Oliver, authors of the bestselling Hank Zipzer books!
Billy Broccoli is a boy with questions: about his new school, his new stepfamily...his whole new life, in fact.
Hoover Porterhouse is a ghost with all the answers.
When a trick of fate makes them roommates, Billy discovers that having a ghost around might not be so bad after all. The Hoover is funny and cool, a great baseball player, and is a real people person (even if Billy is the only one who can see him). And with obnoxious school bullies out to demolish him, Billy can use all of the advice he can get. With Hoover by his side, Billy just might get in style, get even, and conquer the school.
Raves & reviews:
Praise for Ghost Buddy Book One: Zero to Hero
"Readers will root for Billy to conquer his klutziness as well as the bully; his final feel-good triumph is satisfying." -Publishers Weekly
"This odd couple shows promise." -Booklist
"This title is chock-full of nuggets that will have boys cheering...What's more, parents and educators will cheer when Billy stands up to Rod without resorting to bullying tactics." -School Library Journal