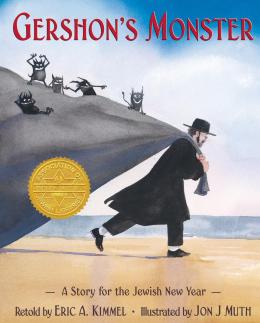 Gershon's Monster: A Story For the Jewish New Year
Scholastic Inc | ISBN 9780439108393 Hardcover
32 Pages | 9.31" x 11.54" | Ages 4 to 8

Rather than regret or atone for his everyday mistakes, baker Gershon simply sweeps them into his basement. Once a year on Rosh Hashanah, he stuffs these demon-shaped transgressions in a giant bag and dumps them into the Black Sea. Of course, Gershon must discover sooner or later that his selfish acts cannot be disposed of so easily. In spite of a pointed warning from a rabbi, Gershon refuses to realize that his behavior will come back to haunt him someday. It's only when he is faced with the monstrous bulk of his misdeeds that Gershon finally, truly repents.
Raves & reviews:
Praise for Gershon's Monster:
"Kimmel's crisp but lyrical retelling of this early Hasidic legend has a steady pace and mounting tension that makes this a text certain to receive heavy use as a read-aloud.... Muth's watercolors add a powerful emotional subtext to this already moving tale.... An author's note gives background on the story and the Jewish traditions from which it comes." —The Bulletin of the Center for Children's Books, starred review