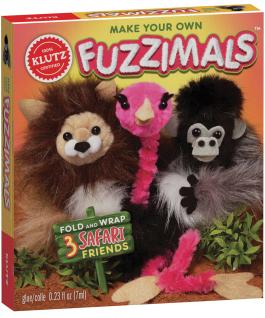 Klutz / Scholastic Canada Ltd.
ISBN: 9781338328707
Ages 8 & Up
Fuzzimals Safari
Make your own fuzzy animal friends!
You're going to go WILD for Fuzzimals! Bend these pre-cut, fuzzy, flexible stems into three safari themed friends: a gentle gorilla, a lazy lion, and an outrageous ostrich. Give these fluffy stems personality by adding pompoms, custom eyes, and felt pieces to make them irresistibly cuddly! Want to
give your Fuzzimals some attitude? The step-by-step instruction book includes additional projects to accessorize your Fuzzimals using common household
items!
Comes With: 28-page book, 3 chipboard animal forms, 9 pre-cut fuzzy stems in 5 colors, pipe cleaners in 2 colors, 6 bead eyes, pom-poms in 8 colors, 3 large faux-fur pom-poms in 3 colors, pre-cut felt, glue, punch-out paper accessories, sticky dots. 
Click here for more