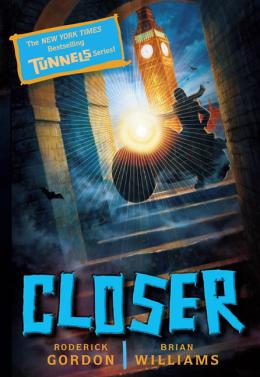 Closer: Tunnels Book Four
Scholastic Inc | ISBN 9780545201162 Paperback
560 Pages | 5.27" x 7.57" | Ages 10 to 14

Scholastic Inc | ISBN 9780545201155 Hardcover
544 Pages | 5.86" x 8.55" | Ages 10 to 14

At long last reunited with his dad, Will now spends his days exploring the "land of the second sun," decoding the cryptic glyphs on its three mysterious temples—or eyeing the wild animals with renegade girl Elliott.

But an army of darkness is on the march. And the ruthless Rebeccas have once more cheated death. With a corps of cold-blooded Limiters at their command, they're determined to hunt Will to the very innards of the earth.

This time, who won't escape with their life?
Raves & reviews:
Praise for the Tunnels series
"Compelling." —Booklist, starred review
"Exciting." —Kirkus Reviews
"Nonstop action for readers who aren't afraid of the dark." —School Library Journal
"An amazing world... with astonishing twists and surprises hiding around every corner." —www.teenreads.com
"Fantastic fun... has a claustrophobia and griminess all its own... Well paced, exciting, and—in places—frightening. (You have been warned.) The danger in the darkness is very real and is well worth the wait." —Philip Ardagh