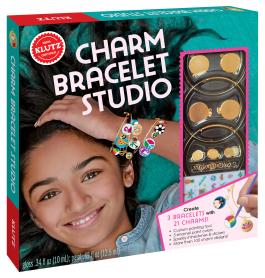 Klutz / Scholastic Canada Ltd.
ISBN: 9780545858489
Ages 8 & Up
Charm Bracelet Studio
An arm party that's all about you!
You can tell a lot about a person by what's jingling at the end of their arm. From inspirations and aspirations to hobbies and personal favourites, the new charm bracelet craze is self-expression you can hang from a bangle.
We couldn't resist giving this trend the Klutz treatment. Why let pre-made charms define you when you can design and paint your own for ultimate personalization? With Charm Bracelet Studio, crafting standout fashion statements has never been easier. We've created more than 100 new designs. Mix and match 21 gorgeous, high quality gold metal charms for a look that's uniquely you!
Comes with: 52-page book, 3 gold metal bangles, 21 blank gold metal charms (15 large, 6 small), 1 custom painting tool, 5 paint colours, 21 jump rings, 1 sheet of rhinestones, 1 sheet of stickers and decals, 1 bottle of finishing gloss
Click here for more