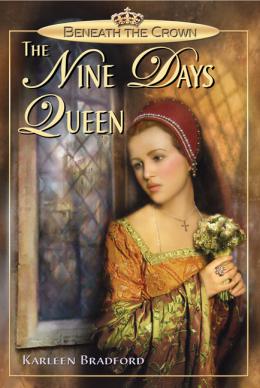 Awards
Commended, Canadian Children's Book Centre, Our Choice, 2006
Beneath the Crown: The Nine Days Queen
Scholastic Canada Ltd | ISBN 9780439961028 Hardcover
240 Pages | 5.52" x 7.67" | Ages 9 to 12

The true story of Lady Jane Grey who, at sixteen, ruled as Queen of England for nine days before being accused of treason. After the death of her cousin, Edward, Lady Jane Grey is forced to accept the crown of England. But her reign lasts only nine days as Edward's eldest sister, Mary, challenges Jane for the throne. Jane is locked in the Tower of London, where she awaits her execution. The Nine Days Queen is the true story of a bright and intelligent young woman who was manipulated and betrayed by the ambitious people around her. This new edition of a classic novel combining royalty and history includes new historical notes and will appeal to young fans of The Royal Diaries series.
Raves & reviews:
Praise for The Nine Days Queen: "Bradford makes history come alive." - Canadian Children's Literature