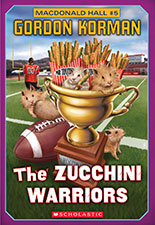 ISBN 978-1-4431-2496-6 PBK
ISBN 978-1-4431-2805-6 EBK
208 pages
5 ¼" x 7 5/8"

Well, football is really a man's game. No offense, girls. You can be, you know, cheerleaders or something."
— Bruno Walton
It's the start of a new year at Macdonald Hall. But instead of the recreation centre they'd put in for, Bruno and Boots are bummed to find a new football field, paid for by Hank the Tank Carson: ex-football player, current zucchini snack tycoon. The school doesn't even have a football team.
So, Hank the Tank offers the students a deal: if they can put together a winning team, he'll build them their rec centre. Only problem is, the Macdonald Warriors stink. But they soon find their new star quarterback – Cathy Burton, from Miss Scrimmage's Finishing School for Young Ladies!

Read an excerpt!