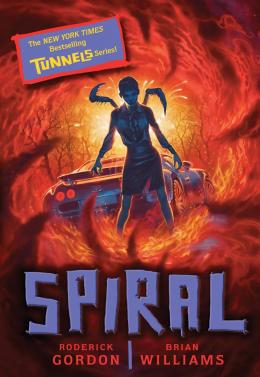 Tunnels #5: Spiral
Scholastic Inc | ISBN 9780545430272 Paperback
464 Pages | 5.3" x 7.57" | Ages 10 to 14
Spinning out of control! Now in paperback, the fifth and penultimate book in the internationally bestselling Tunnels series!
Just when you thought it couldn't get any deeper, darker, or weirder . . .
Creeping into the open through cracks in the earth, the Styx have surfaced, and are now infesting England like some parasitic scourge - carriers of a bizarre black secret that will place every last Topsoiler in mortal peril. Unless Will Burrows puts a stop to the propagation.
Armed to the teeth, with little more than a motley crew of former commandos as reinforcements, can Will, Chester, and Elliott find a way to squash the threat? Or will they only find themselves in a deadly downward Spiral?
Raves & reviews:
Praise for the Tunnels series
"Action; lively dialogue; diabolical villains and feisty teens; clever cat-like companion hunters; things that blow up; torture and mind-manipulation; family and friends in danger; and trust and betrayal. A great science-fiction adventure." -VOYA
"Propelled by chases, attacks, explosions, cunning deceptions, and acts of heroism and stupid bravado." -School Library Journal
*"Compelling." -Booklist, starred review
"Exciting." -Kirkus